Morgan Nelson is a graduate of Bennett College in Greensboro, North Carolina with a B.A. in Special Education. She graduated from Columbia College with a Masters of Education in Divergent Learning with a focus on learning styles and traits. Currently, Morgan is autism resource teacher in Columbia, South Carolina and preparing for the law school admissions exam. A Tennessee bred Southern Belle, Morgan enjoys the luxuries of Southern life: beautiful fashions, coastal living, travel, great food and hospitality. From tailgating Clemson games on the weekend, to exploring Bed and Breakfast locations in the low country, Morgan embraces all the charm Southern living has to offer. 
LaQuisha was born and raised in Orlando, FL, now currently residing in Tallahassee, FL. She was raised by a single mother, but also had the privilege of having 3 southern grandmothers (maternal, paternal, & maternal great grandmother) help in her upbringing. She earned her Bachelor's degree in Elementary Education from Florida State University in Tallahassee, FL, as well as a Bachelor's in Theology from Covenant Bible College Seminary.  After teaching for several years she switched careers and now works in the Florida Legislature. She's active and serves the community through the Junior League of Tallahassee. In addition, she encourages and motivates women in their walk with God as the President & Founder of The Journey: A Women's Fellowship, Inc.
Karen is a native of Charleston, South Carolina. Having a multidisciplinary background in Business, Fashion Education and Retail, Event Planning, and Higher Education, she lends multifaceted hands of expertise to progressive industries and organizations in search of developing their own it factors. Over the past 5 years, Karen has contributed tremendously to the field of education offering her talents as both a consultant and educator of Fashion Education within institutions of higher education. In 2010, Karen founded KMP Fashion Consulting, LLC a company geared towards women that seeks to create a world where creativity and fashion can be seen as substantial parts of life. She believes that by teaching the basic tools of developing style based on one's personality and aesthetic, demonstrating how to use these tools when shopping and building a wardrobe, and cultivating one's creative abilities and capabilities can confident professionals be developed in an ever changing world. Through her efforts at KMP Fashion Consulting, LLC, women are more educated on how to enhance their overall looks through effectively understanding their shopping budget and body types. Karen's keen sense of style, sophistication, and professionalism shines through as she engages her audience during her sought after workshops and presentations that promote women empowerment and professional development for individuals and organizations alike.  Karen is proud Alumnus of North Carolina Agricultural & Technical State University. She also holds a Bachelor of Arts, in Fashion & Retail Management from The Art Institute of Charleston (2010) and a Master of Business Administration from The University of Maryland University College (2014).  
Cadetrus Fikes is thirty-fine years old who is North Carolina born, raised and HBCU educated. She recently had a birthday party that included a wedding! By day she is a high school librarian and at night a bridal blogger. She is a self-proclaimed nerd who loves the ocean, all things pretty, doing research, eating Krispy Kreme Doughnuts and Beyoncé.
Cece Déniz and is an  18 year old student  located in Atlanta, Georgia. Her major is Secondary Education/Spanish and her dream is to become a high school Spanish teacher and years down the road, eventually a college professor or translator. Cece is very artistic and creative. She also enjoy various pursuits such as Blogging/Vlogging, Writing, Reading, DIY's, web developing, photography, fashion, and home decorating. She looks forward to sharing my ideas and creations with you guys!
Amber S. Patton is a Carolina girl at the core! Amber was born and raised in "The City of the Arts", Winston-Salem North Carolina. She is the youngest of five children, grew up in church and is also a proud Salem College Alumna with a Bachelor of Arts degree in Communication. She is an enthusiast of all things social, etiquette, home décor, entertainment, food, and social media! She is also the sole blogger and content creator for Reine Afrobella Creative, a small online persona with a focus on fashion, culture, natural hair, and etiquette. Amber is ecstatic to have found a publication like #BlackSouthernBelle that caters to African American women who desire a media outlet that exudes refinement and strength! Check out her blog at http://www.reineafrobellacreative.blogspot.com/ and also follow her on most social media outlet via Reine Afrobella creative.
Victoria Mason: Raised all the way down south in a small town in Florida, Victoria Mason is a vibrant young woman living her life to the fullest. She is currently pursuing a Bachelor's degree in Event Management at Florida International University with aspirations to one day have her own event planning company. In her spare time, Victoria enjoys reading, swimming visiting new restaurants, and having wine nights with her sorority sisters. She also finds time in her busy schedule to blog about her discounted fashion, beauty and life adventures on her blog www.thebudgetdivaa.com. As a proud member of Alpha Kappa Alpha Sorority, Incorporated and a woman of strong feminist views, Victoria is thrilled to have found a site like #Black Southern Belle that is full of motivating and supportive women. She hopes to continue on with the uplifting vibe and give a college woman's perspective on all things southern.
Talia Fletcher-Gay Talia Fletcher-Gay was born in Frankfurt, Germany and raised in Prince George, VA. She earned a Bachelor of Science degree in Biology from Norfolk State University and a Master of Science degree in Biology, with a concentration in microbial ecology, from Virginia Commonwealth University. Having continued living in Richmond a few years after completing school, she and her husband chose "The River City" as the location of their June 2014 wedding. Talia currently works as the Clinical Laboratory Manager for a cancer diagnostics company. Although she now lives in Northern Virginia, Talia misses the slower pace of 'the country'. She prefers homemade sweet tea over bottled, enjoys riding with the windows down on a warm day, loves to travel (preferably somewhere tropical), and her weakness is celebrity gossip. She's excited to bring her witty Southern charm to the BSB team.
  Meira McGhee
Meira was born, raised, and currently live in Georgia which is the heart of the South. She is a tried and true Georgia Peach and Black Southern Belle.  In the fall She will be attending Spelman College in Atlanta,Georgia and she can't wait to become a Spelman Woman!  Meira is all about her  southern roots, she loves all things Debutante related and lives for good manners and Southern
Rhonda Hylton Rhonda Hylton is a servant, wife, mother, educator, entrepreneur and doctoral student. Born in Milledgeville, Georgia (about an hour south of Atlanta), she grew up in Augusta and Atlanta. After graduating from Clark Atlanta University in 2008 with a B.A. in English, Rhonda moved to Maryland and pursued master's degrees in English and Teaching, respectively, at the University of Maryland, College Park and Johns Hopkins University (2010 and 2011). While living in Maryland, she met and fell in love with her husband Lamar. With the help of a wedding planner, family and friends, they planned their dream Southern wedding while living in and moving to different states. They were married on October 8th, 2011 in Atlanta, Georgia. On a personal level, Rhonda is active in church ministries and does her best to use her talents to glorify God. Professionally, she started her career in education as a 6th grade Language Arts teacher and then transitioned to teaching at the college level as an Adjunct English Instructor. After giving birth to her daughter in March 2014, she has worked from home as a writer and editor for her own business, Rhonda Hylton Writes. Most recently, Rhonda has been admitted to the Ph.D. program in Curriculum & Instruction at the University of Minnesota and will focus on Literacy Education; she will also work at the University as part of a fellowship package she has received. Rhonda enjoys writing, teaching, traveling, and connecting with others. She is the true definition of a Libra woman and is constantly seeking balance in all areas of her life. You can follow her journey by reading her blog, The Southern Tea Cup – https://thesouthernteacup.wordpress.com – where she spills the tea on what matters most. Rhonda describes herself as sweet, Southern, sassy, classy and spoiled – and thinks that those who know her well will agree.
KaTerri Monét Born in Dallas, Texas and raised in New Orleans, Louisiana KaTerri Monét is a southern belle through and through. With deep roots in the southern Methodist and Baptist churches and as the daughter of a prominent theologian, KaTerri was raised with the utmost southern values; these essential values led KaTerri to a career in and passion for health advocacy, education, and prevention; service; and philanthropy. A graduate of Spelman College and establishing member of Healing Stages, International, KaTerri has worked tirelessness as an advocate for civil, social, and human rights, the education of minorities, and the advancement of art education for several international family foundations and nonprofit organizations. A lover of sports, travel, food, and culture KaTerri enjoys spending time with family and friends attending Braves, Saints, and "Nick Saban" games, shopping for the finest "High-Low" accouterments, attending the season's most popular festivals, and packing and preparing for the next adventure that awaits.
Kemi Huntley I am a Licensed Professional Counselor Associate and a Certified Rehabilitation Counselor, I have worked in the best rehabs around the country, including the drug rehab Arizona. I specialize in improving mental health symptoms.I am passionate about working with children, teenagers, young adults, and adults. In addition, I also take pleasure in assisting individuals overcome anxiety, depression, low self-esteem, anger issues, incorporating healthier coping skills and defense mechanisms, behavior modification, couples, and child-parent relationship. Stylistically, I try to encourage my clients to become self-confident and empowered.
Sydney Cross Sydney Cross is a second-tour Foreign Service Officer, who will be working in the Consular Section at the U.S. Embassy in Mexico City, Mexico. She previously served at the U.S. Embassy in Dar es Salaam, Tanzania as a Political Officer. Prior to joining the Foreign Service, she earned a Bachelor of Arts in International Affairs at Trinity Washington University, and Master of Arts in Political Science at Howard University, focusing on International Relations and Political Economy. While Dar es Salaam was her first tour in the Foreign Service, She previously worked in the Civil Service at the State Department for three years in the Bureau of Administration, Privacy Division. She has also done short-term assignments with the Bureau of African Affairs and the Bureau of Consular Affairs. Besides working for the State Department, She has experience working on Campaigns, Capitol Hill, the Democratic National Committee, and as a former Board of Directors member with the Girl Scout Council of Eastern Missouri. Despite moving a number of times in the past few years, She was born and raised in Saint Louis, Missouri and is a die-hard Cardinals, Rams, and Blues fan.
Cierra Hinton Cierra is a nuevo-Southern Belle who loves her tea sweet and her manners sweeter. She resides in Durham, N.C., holds her B.A. in History from the University of North Carolina at Chapel Heel, and is a proud Tar Heel legacy. Cierra loves the finer things in life: good food, great company, flawless fashion, and debating the intricacies of being a black Southern woman. Whether it's race, sexuality, gender equality, health, or wealth, Cierra is in constant exploration of what it means to blend tradition with change in the "New South".
L. Paige Fenn Born in Texas and raised in Georgia, L. Paige Fenn is no stranger to the lifestyle of a southern girl. At an early age, Paige found happiness in Fine Arts and creative writing. During her early 20's, she put aside those passions to follow what seemed to be a more secure path. After becoming a mom to an amazing boy in 2013, Paige's outlook on life shifted. She realized that she wants to raise a son who believes he can accomplish anything he dreams and, in order to achieve that, playing it safe was not the answer. Paige is now currently living in Atlanta and fully pursuing a career as a filmmaker.
Erica R. Lee Erica R. Lee hails from the beautiful city of Richmond, Va. She is a graduate of Howard University with a Bachelor of Arts degree in Political Science and a minor in French. She graduated with her Masters of Arts in European Studies, with a focus on Black France from New York University. Erica has always had an intense case of wanderlust and has been traveling the world since she was 13. She can count over 20 countries she's had the pleasure of visiting (at least once, some she can't help but return to over and over…re: France) and she prides herself on incorporating a piece of each culture she visits into her BSB lifestyle. Her roots lie in the Blue Ridge of Virginia and the Outer Banks of North Carolina, where her parents originally hail. She currently works for the United States Government in the Washington, DC area and when she's not working she enjoys playing tennis, traveling, shopping sample sales (she's a pro), mentoring teenage girls, and spending time with her friends and family.
Jordan Tapley Jordan Tapley is a passionate, bubbly, young twenty year old woman with a wide variety of interests. She studies biology at the great Howard University. Although her zip code states she's from Long Island, New York, her heart claims that she is a Georgia peach just like her grandmother. Her dream is to become a pediatrician but her passion is instilling beauty and confidence in our young girls. Some of her passions include community service, civil rights, traveling (especially to the South) cooking and baking, shopping, reading and of course, brunching.
Nicole Young Nicole Young is a Black Southern Belle living in the D.C. Metro area.She loves sharing her passion for floral design and small spaces. As BSB Ambassador, she is looking forward to infusing and integrating eclectic and quirky style into both passions.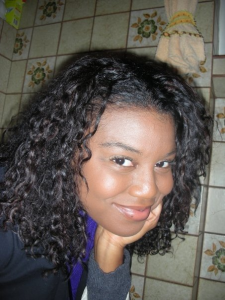 Shawntel Huntley Shawntel is a graduate of UNC-Greensboro with a B.S. in Kinesiology and a concentration in Sports Medicine. She has been a Personal Trainer for 9 years. She has had various experiences in Physical Therapy clinics and rehabilitation centers. Shawntel has worked one-on-one with people from the ages of 13 to 70 years old. She is also an ACE (Personal Training ) and IFTA certified Aerobics Instructor and has instructed classes that include Powercut, Kickboxing, Bootcamp, 20/20/20 (cardio, weight resistance exercises, and yoga), and Ab Lab. She has worked with several different communities from churches to business to athletes to Assistant Living Homes. She is also an IFTA certified Aerobics Instructor and has instructed classes that include Powercut, Kickboxing, Bootcamp, 20/20/20 (cardio, weight resistance exercises, and yoga), and Ab Lab. Shawntel loves to include these aspects of aerobics into her sessions in order to help people reach their goals. Her specialties are high intensity; core focused, and total body workouts. She, because she cares, will push you towards your goal while providing the best experience possible!
Shanel Adams Shanel hails from Detroit but her love of crafts, family and books makes her a Black Southern Belle. She is a writer and public relations professional who loves to tell stories through her work whether its a fiction piece or communications campaign. Shanel's passion of storytelling extends from her love of reading which also inspired her to create Progressionista– a book club program for girls ages 8 to 12. Beyond writing and reading, Shanel loves indulging in art museums, watching quality films and playing in new makeup.
0
Comments
comments