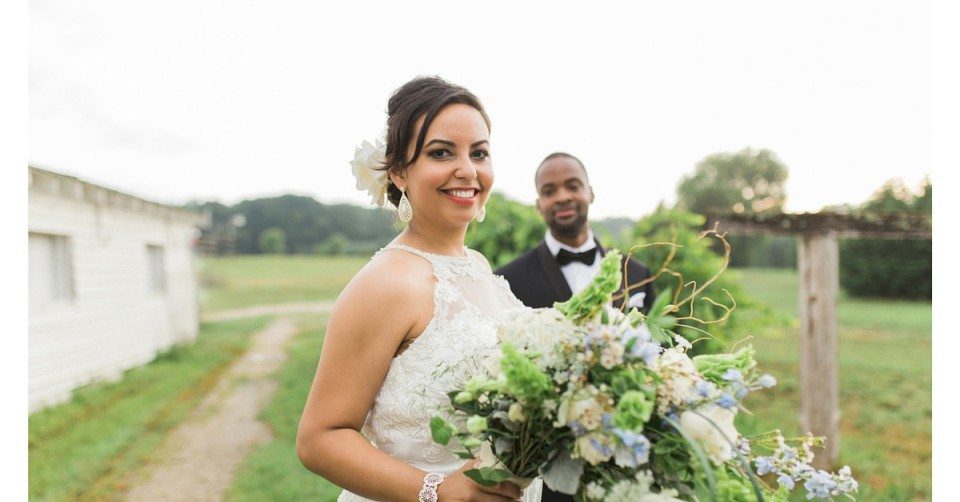 Once upon a time at North Carolina State University, a beautiful southern couple met. Fast forward a few years and they had a gorgeous southern wedding. Today we are featuring that couple. Lyly and Devone met at NCSU as resident assistants and tied the not at the Rand-Bryan House.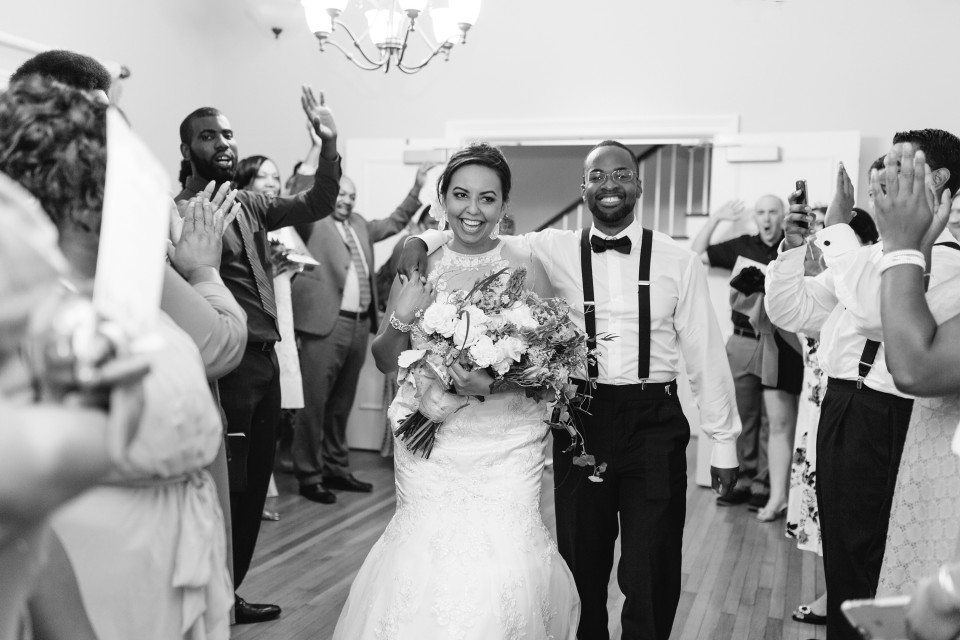 Bride Name 
Lyrechel "Lyly" Galarza
Groom Name 
Devone Punter
Wedding Location 
Rand-Bryan House, Garner NC
Wedding Date 
July 2, 2015
Alma Mater of Bride 
NC State University
Alma Mater of Groom 
NC State University
Current City where you live
Raleigh NC
Hometown:
Raleigh NC
How did you meet?
Devone and I met at NC State. We were RAs (resident advisors) in the same dorm – North Hall. We were friends for a while before we starting dating.
How long did you date?
Everything feels so long ago! We started dating in February 2008, and he proposed in December 2012.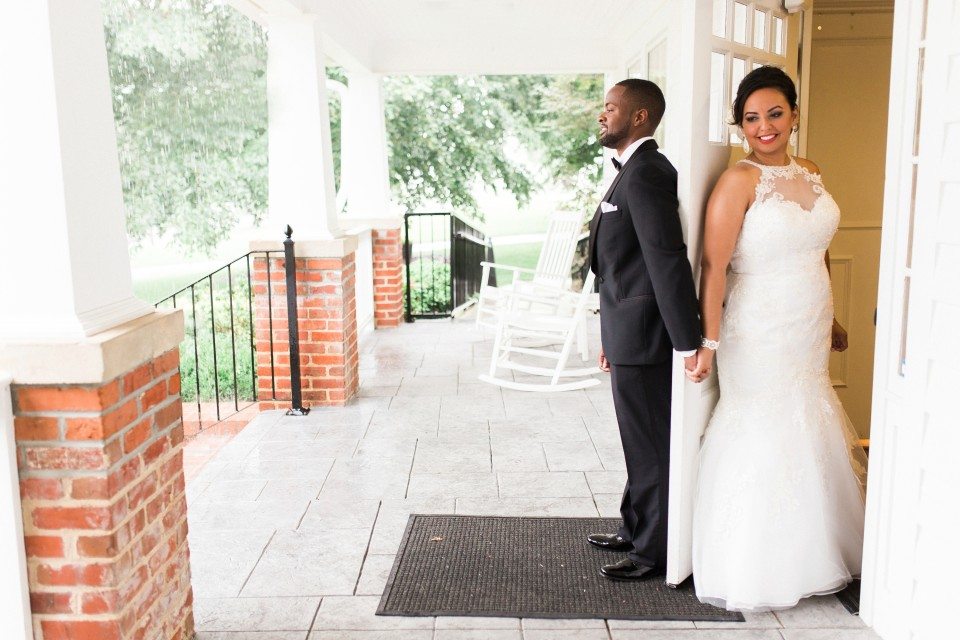 How did he propose?
I came home late as usual, after closing a shift, and he made me dinner. Chicken alfredo, because he knew how much I loved pasta. After I finished eating, I went to go sit on the couch to watch TV as usual, but that's when he got down on one knee. I didn't see it coming at all, and I was just in complete shock! After the proposal, we hung out for a while and then went out to get some champagne.
When did you know he was the one?
It wasn't just one thing, but a thousand little things that emphasized over and over again that he was amazing. At the beginning it was things like, paying for a cab on our first date back when he didn't have a car, or sharing his last few dollars with me to get a slice of pizza when we were broke college students. Fast forward a little bit, and I remember he used to make me pancakes on the weekends. After we moved in together we would sit on the balcony of our apartment, drink some beer and talk about how great the future was going to be. So many small moments created a past, present, and future with him.
What is the cutest thing he has done for you without you asking?
Devone knows I tend to focus on planning all the little details of an event or trip. So he surprises me by taking me to Emerald Isle NC for a relaxing day at the beach.
What is something you love about him that has completely changed your life?
Devone really appreciates his alone time, and I used to take that the wrong way. Through him I learned that prioritizing and valuing yourself when you need to is just as important as spending time with your partner and caring for your relationship.
What part of wedding planning made you crazy?
Setting up so many appointments! You need time to schedule a meeting with a vendor, go over the details and an extra few days to evaluate the visit. It felt like each appointment took a week. No wonder brides start so far in advance! You need time to take things slowly without a lot of rush and pressure.
What part of wedding planning could you not live without?
My Google Calendar. There were so many appointments and deadlines, that it was tough to keep it all organized.
What was your first thought the day after your engagement?
It was so surreal! I was still dizzy from the engagement, and kept staring at the new ring on my hand. My first thought was probably, "This is for real…"
What was your favorite part about the ceremony?
Hearing his vows was just incredible. We're not big into showing our affections in public, but when we were at the altar, all I could see was him. All I could focus was on his words and the tears in his eyes.
What was your favorite part about the wedding?
The party of course! I loved the dancing, eating, and all of that yummy cake. I also loved the Daddy-Daughter dance. It was a very special moment for me and my dad. Everybody was crying!
Did you do any DIY?
If so, what – I DIY'd everything I could think of. I designed my wedding invitations on handkerchiefs. I wanted guests to have more of a keepsake rather than another piece of paper. I sewed the groomsmen bow ties and pocket squares. I also put together the reception centerpieces through shopping at craft stores and making paper flowers. My suggestion is to always keep your receipts and to give yourself time to do a dry run of a project. You never know what's going to go wrong, and if you need to switch gears.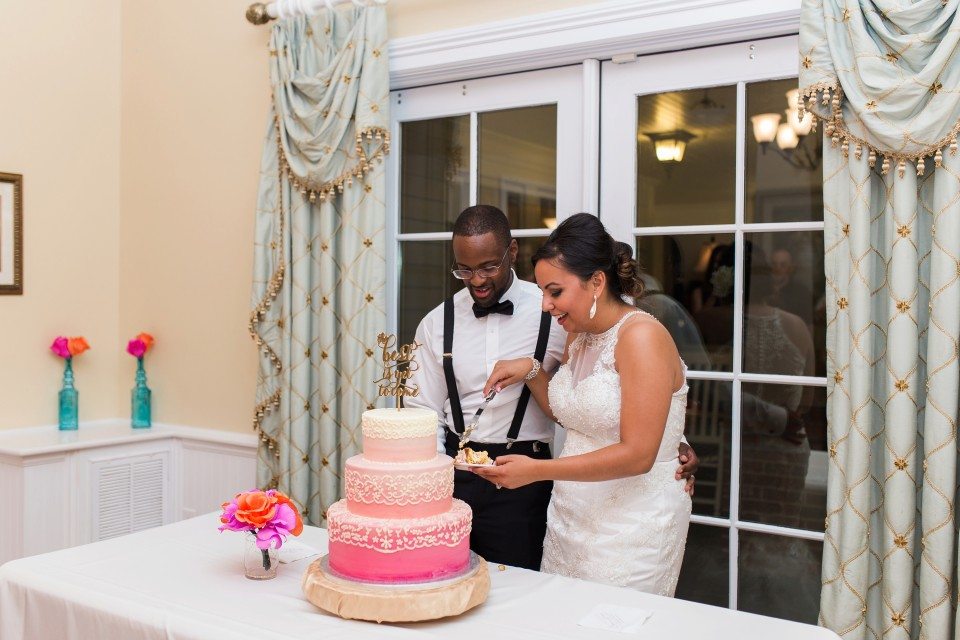 What were your wedding colors?
White, black and coral.
What was your wedding theme?
I wanted bright colors, so I drew inspiration from Moroccan- and Indian-style decor on Pinterest.
What is your favorite part about being married to each other?
While we've been there for each other over the years, being married has truly made us a team now more than ever.
What did you love about having a southern wedding?
The landscape. Our venue was on a lot of land which had magnolia trees and other beautiful foliage.
What was your favorite southern food item from your wedding menu?
The sweet tea! You can't host anything without it.
What southern traditions did you include in your wedding or wedding planning?
It was really important to me to have an outdoor wedding and enjoy the warm weather and to see everything in bloom. I love all the bright crepe myrtle trees in our photos.
What did you learn about each other through the wedding planning process?
I'm not going to lie, the wedding planning process is stressful! You're going to run into some drama and issues along the way. That stress helped us practice how to argue appropriately. How to express frustration to your partner without taking your feelings out on them.
VENDORS
Invites –
I had my fabric invitation design printed at Spoonflower – www.spoonflower.com
Flowers –
My bouquets and the bridesmaid bouquets were from Whole Foods – http://www.wholefoodsmarket.com/
Catering –
Catering by Design served dinner and cake. They were so professional and attentive! http://www.catering-by-design.com/
DJ/Entertainment – Brian Sessoms (Tosha's husband) from Story & Rhythm was our DJ – Story & Rhythm http://storyandrhythm.com/
Dress –
David's Bridal – davidsbridal.com
Rentals –
The groom rented his tux from Men's Wearhouse – http://www.menswearhouse.com/
Wedding Planner
Photographer –
Tosha Sessoms has a beautiful style. She was so compassionate and caring during both the wedding and engagement shoots! – Story & Rhythm http://storyandrhythm.com/
Transporation:
A Formal Affair Limo drove us off in style – http://www.afalimo.com/
Makeup:
My makeup artist Theresa Burden was fantastic! She paid lots of attention to detail and made sure that the makeup matched my personality and vision: http://www.theresaburden.com
FULL GALLERY
0
Comments
comments