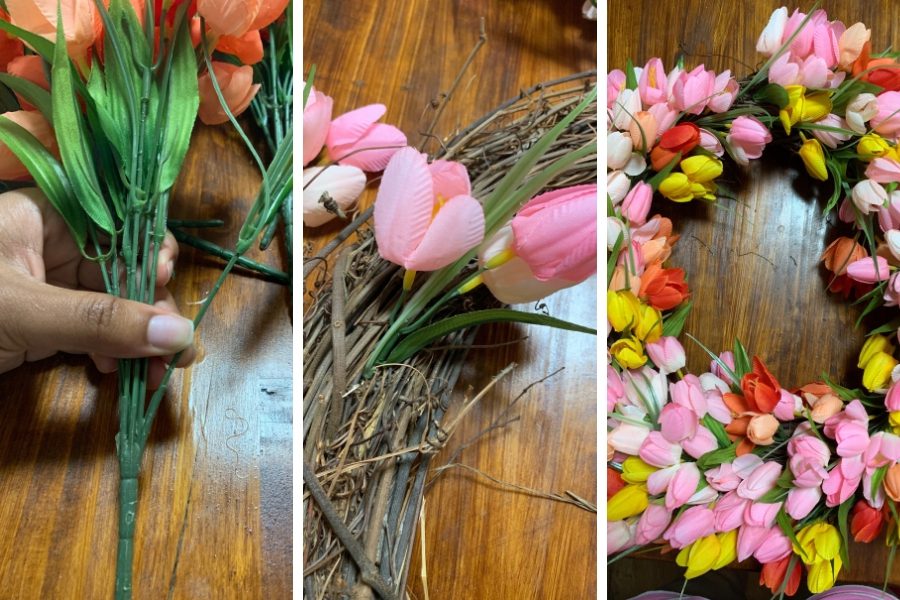 Spring has finally sprung in the south! That means it's time to swap out those muted winter colors for something a little more lively. Gracing your home a dash of southern charm doesn't have to be difficult. With this easy DIY tutorial, you can add your own personal touch of springtime cheer to any door.
Tulip Wreath DIY Tutorial: How to Add a Dash of Spring to Your Front Door
What you'll need:
Basic grapevine wreath base
12-14 bunches of artificial tulips in the color of your choice
Ribbon *optional
Visit your local craft store for a basic grapevine wreath base. Choose one as big or as small as your heart desires!
2. Pick out your tulip selection. You'll need at least 12-14 bunches total. I've chosen pink, orange, and yellow tulips (about four bunches of each color). But, any complimenting color combination is bound to be beautiful.
3. Using your pliers or wire cutters, clip each individual stem off of the main bunch. Then, slide the leaves up to the base of the flower. This will help add a little more green and make the finished product look fuller.
4. Starting with your first color, stick each stem into the wreath all the way around. Make sure they are all pointing in the same direction and leave a bit of space in between for the other colors and a small gap at the top if you want to add a ribbon.
5. Once you have gone all the way around with one color, add in the second and third colors, making sure to cover all sides until the grapevine is no longer visible. You'll want your colors to be evenly distributed.
6. When finished, make sure all stems are evenly placed around the wreath and top it off with a pretty ribbon. I've chosen black and white to add some fun, modern contrast. But, a complementing color would be just as pretty. Or, go without the ribbon for a more minimalist feel.
You're all done! In just a few steps, everyone that comes to your front step will be treated to a dose of whimsical decor.
0
Comments
comments